About Cybercrime.eu
Cybercrime.eu is a division of EIT DK ApS, owned by Henrik Bjørner.
As Cybercrime.eu is in the private sector and receives no government support, we use alternative methods to combat the proliferation of counterfeit web shops.
Since 2014, we have conducted substantial research repeated country-wide analysis in this area. This has enabled us to conduct intellectual property right infringement detection on a very large scale with unmatched precision.
As this form of crime impacts companies as well as posing significant risk to consumers, Cybercrime.eu is dedicated to detecting and unmasking infringers, their methods, and their detrimental impact on society.
Since 2014,
we have scanned more than 30,000,000 domain names.
we have detected more than 35,000 counterfeit web shops.
we have found more than 2,500 different replicas of designer brands.
Who cares?
We hope that you do!
It is our goal to examine the web shops of every European country at least annually for the purpose of forwarding all findings of intellectual property violations to local law enforcement authorities with the intent of eventual eradication of this type of cybercrime.
To do this, we need your help.
To this end, we are seeking a sponsorship of €250,000 a year.
What can we offer?
We can offer you recognition on the Cybercrime.eu website as a sponsor, so you can show the world your commitment to being part of the effort to eliminate this type of criminal activity, as well as the satisfaction of knowing that you are a partner in fighting IPR-related cybercrime.
Together we can do it!
What will the money accomplish?
The money will cover at least one annual analysis for each of the following countries: Austria, Belgium, Bulgaria, Croatia, Cyprus, Czech Republic, Denmark, Estonia, Finland, France, Germany, Greece, Hungary, Ireland, Italy, Latvia, Lithuania, Luxembourg, Malta, Netherlands, Poland, Portugal, Romania, Slovakia, Slovenia, Spain, Sweden, and the United Kingdom.
Other country code top-level domains (ccTLD) with connection to the European Union.
.eu (European Union) websites.
.nu websites (popular in Sweden, Holland, Denmark, Norway, and Belgium).
How will the money be spent?
The first ESDA algorithm (EIT Scam Detection Algorithm) for detection of IPR-infringing web shop activities was developed in 2014. As the criminals behind this type of scam become increasingly sophisticated and better at blending in with legitimate web shops, ongoing research is necessary.
Scanning a country requires a list of all the domain names, which is provided free of charge by some countries, but which most often must be purchased from a third party.
Cybercrime.eu relies on external resources, such as proxy servers and geo location access.
Certain minor upgrades are required on the hardware side.
Salary and research.
The goal!
Reducing the number of counterfeit web shops is a daunting and time-consuming task for law enforcement agencies all over the world. Cybercrime.eu endeavors to make this effort as easy as possible by collecting all the information required and providing the necessary documentation.
A full analysis for each country will be forwarded directly to the relevant law enforcement agencies along with all necessary documentation.
Cybercrime.eu will publish a "no-name version" of the analysis for each country. The anonymous version ensures that no criminals can gain inside information from the website.
Donate €1 or more
Thank you for the support!
Donate €5,000 or more
You will receive a 1-year sponsor listing on Cybercrime.eu.
Donate €25,000 or more
You will receive a 1-year sponsor listing on Cybercrime.eu.
Company Name
Company Link
Company Logo
Named in a published analysis
Donate more++
We offer our services to public stakeholders and encourage collaboration with likeminded partners, so get in touch and help us fight IPR-related cybercrime.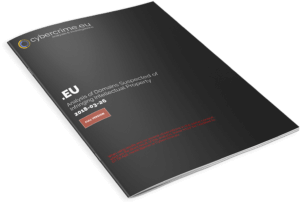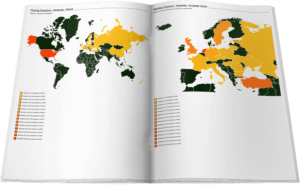 Donate
PayPal

Wire Transfer
Danske Bank
Reg.no. 3409
Account no. 11947786
SWIFT: DABADKKK
IBAN: DK2630000011947786